Cryptocurrency (or "crypto") is a digital currency that can be used to buy goods and services and is protected by an online ledger and strong cryptography. The majority of interest in these unregulated currencies is for profit trading, with speculators sometimes driving prices up to absurdly high levels.
Bitcoin, the most widely used cryptocurrency, has witnessed a lot of volatility this year, reaching nearly $65,000 in April before falling nearly half of its value in May. The price had risen quickly again by the fall, hitting an all-time high of over $66,000 before plummeting.
What is Cryptocurrency?
Cryptocurrency is a type of online payment which can be used to buy and sell products and services. Many businesses have created their own currencies, known as tokens, that can be exchanged for the goods and services they offer. They have the look of casino chips or arcade tokens. You'll need to exchange real money for cryptocurrency in order to use the product or service.
The technology that permits cryptocurrencies to function is known as blockchain. Blockchain is a distributed ledger technology that enables several computers to handle and record transactions. Part of the beauty of this technology is its security.
History of Cryptocurrency
In 2009, a research paper titled Bitcoin: A Peer-to-Peer Electronic Cash was published by an anonymous author under the pseudonym Satoshi Nakamoto. The world was introduced to Bitcoin as a result of this, but it took nearly two years for a real crypto market to emerge. Alternative cryptocurrencies, sometimes known as "altcoins," gained in popularity as Bitcoin became more well-known.
A large speculative market has developed around a number of cryptocurrencies today. After years of steady growth, there was a notable jump at the end of 2017, followed by a large fall in 2018 as a result of investor panic about a software update to the Bitcoin ledger. Cryptocurrency has since recovered, owing to the fact that the software update caused no long-term difficulties with the ledger.
And since, the bitcoin market has experienced steady growth and is now widely accepted. Bitcoin is currently accepted as a form of payment by several prominent consumer-facing companies, including Microsoft and Whole Foods, and Visa and MasterCard both enable crypto transactions to some extent.
These are the top 10 largest trading cryptocurrencies by market capitalization.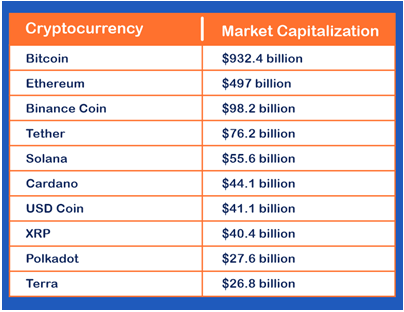 How Cryptocurrency works?
A method known as mining, sometimes known as crypto mining, is used to organize the data blocks into a full ledger. Miners work hard to encrypt transactions and then add blockchain units to the ledger once they've been validated. When paired with blockchain technology, this open source ledger format creates a way for authenticating transaction data and cryptocurrency ownership. Moreover, producing these blocks generates a set number of coins, which will continue to decrease as more coins are generated, resulting in cryptocurrency's rarity and worth.
Is it legal to trade Cryptocurrencies?
They are unquestionably legal in the United States, but their use is virtually prohibited in China, and whether they are legal in other nations is ultimately a matter of national sovereignty. Also consider how you might protect yourself from crooks that use cryptocurrencies to mislead investors.
Buyers beware, as always!!